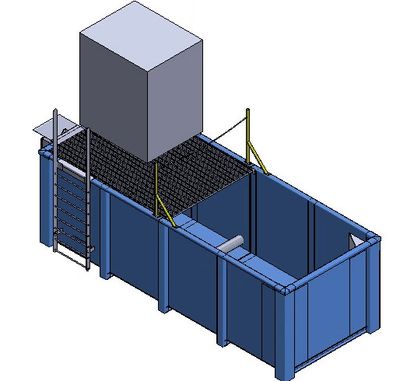 Patent Pending
3500 Gallon capacity self-supporting 3/16" steel fabricated tank.
Safety grating designed to cover ½ of the surface of the tank.
Ladder access to flocculant dispenser.
Safety Chain Guard on top of tank for half tank grating safety.
Large capacity auger flocculent dispenser (300 to 400 pounds of dry FLOC™).
Weather proof housing around the flocculant dispenser.
480V 3-Phase Control panel with 120V step down for float switch and flocculent dispenser with manual switch for pump run (no auto).
7.5hp HOMA agitation pump equipped with prefabricated directional flow header for mixing.
12" gravity outfall pipe.